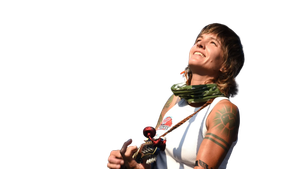 Sarah Fiore 
SINGER/SONGWRITER 
Indie folk artist Sarah Fiore is an award-winning singer, songwriter, instrumentalist, and producer from Dover, Pennsylvania. Named Best Female Artist of the Year (2022) by the Central PA Music Hall of Fame, Sarah is known for her prolific stream of stand-out melodies, salt-of-the-earth vocals, and true lyrical artistry. She is also the songwriter, lead vocalist, and guitarist for the award-winning folk/roots band, Big Sky Quartet. Landscape designer by day, pro patroller in winter, lover of cats.
...a sound that feels like you're hanging outside on a warm summer evening.
–The Burg Magazine
Central PA Music Hall of Fame Awards:
Best Female Artist - Sarah Fiore (2022) 
Best Folk Band - Big Sky Quartet (2021) 
Best Album - Red Fire Rising (2021) 
Best Trio (2019)
Unsigned Only Music Competition (2023)
Among 6,000 song submissions from around the world, Sarah was selected in 2023 as a semi-finalist in two different songwriting categories:
Folk/Singer-Songwriter Category: Lonesome Sparrow
Sarah performs live with her band, Big Sky Quartet, at the Launch Music Conference in Lancaster, PA (April 2023), opening with Lonesome Sparrow from her new solo album, Appalachia Blues, and ending with a fan-favorite, Bound to Fade, from the award-winning album, Red Fire Rising (2021).